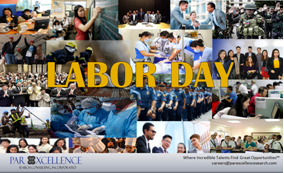 The laborers are the lifeblood of every business. Their productivity turns visions into daily profit, and daily profit into commercial progress. They sometimes wear blue collars and worn-out pants, but they are always clothed in little to no dignity. Often perceived as cogs, they are the oppressed human machines most big companies exploit.
Despite standing on flimsy integrity, these workers are the backbone of the Philippine economy. They make businesses thrive, even if they are barely surviving. They help society function, even if they barely receive aid. Without them, blueprints will remain as blueprints.
Every worker is entitled to labor rights as established by the Philippine constitution on the Labour Code. This includes the security of tenure, normal work-hour, rest day, overtime, premium and 13th-month pay, night-shift differential, and leave benefits. Unfortunately, these rights only exist on legal papers and millions of Filipinos are still overworked, underpaid, and with no job security.
This year's Labor Day will once again bring their suppressed rights into the spotlight. They will be reminded that they stood on equal grounds, as they voice out clamors that will ripple change.  Labour unions once fought for minimum wage and improved work conditions – and our displaced workers need this fight now more than ever.
Why? Because the COVID-19 pandemic took a massive toll on our Filipino workers. Many business operations froze as daily services (such as transportation, construction, and repair) were shut off. The accommodation and the manufacturing services were among the ones who were badly hit. Hence, the majority are stuck in a no-work-no-pay system leaving them jobless and hungry at the end of the day. These include people who are factory workers, jeepney drivers, and domestic helpers. Although the government is tasked to ensure their welfare, financial support to every worker is yet to be provided.
In lieu of the Labor Day, what we can do to show appreciation for our everyday heroes is to stand with their plight of a guaranteed income amid the pandemic. With this, we are doing our part in ensuring that they will have something on their plates. Looking back on ancient times, it is the skilled workers who built the Greek cities, the Roman aqueducts, and the Mayan temples. There has always been a need for them, and they will always be a need.
Our laborers are the people who make things happen. We must forward their rights and make them feel dignified. One immediate way to do this is to campaign a guaranteed income for the people who lost their jobs. Remember how they make the businesses thrive, and help society function? Maybe it is our turn now to help them survive.